Holabird & Roche/Root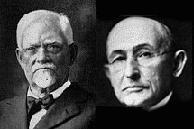 This longstanding firm was founded in 1881 by William Holabird (1854-1923) and Martin Roche (1855-1927), who met while working in the architectural office of William Le Baron Jenney, the so-called "father of the skyscraper." A native of New York, Holabird had come to Chicago in 1875. Roche was raised in Chicago and was educated at the Armour Institute of Technology (now IIT).

The firm was influential in the development of early skyscrapers, especially the architectural movement known as the "Chicago School." Among its early designs were the Tacoma Building (1889; demolished), Chicago, Marquette, Old Colony, Pontiac (in the Printing House Row District), and the Republic (1904; demolished) buildings. Many of its early buildings feature the distinctive "Chicago window," a large pane of glass flanked by narrow, moveable sash windows. Later works include the Brooks and Champlain buildings, City Hall-County Building, Hilton Hotel, Soldier Field, and the Three Arts Club.

In 1929, the firm was reorganized by Holabird's son, John A. Holabird (1886-1945), and John Wellborn Root, Jr. (1887-1963), also the son of a famous architect. The renamed firm, Holabird & Root, proved to be as influential in the 1920s as its predecessor had been at the turn of the century. Among its famous buildings are the Chicago Board of Trade, Daily News Building, Palmolive Building, and 333 North Michigan.