Daniel Burnham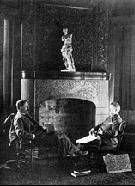 Raised and educated in Chicago, Daniel Hudson Burnham (1846-1912) gained his early architectural experience with William Le Baron Jenney, the so-called "father of the skyscraper." In 1873, Burnham formed a partnership with John Wellborn Root (1850-1891) that produced such commissions as the Kent House, Masonic Temple (demolished), Monadnock Building, Reliance, Rookery, St. Gabriel's Church, and the Union Stock Yard Gate.

Following Root's death in 1891, the firm became known as D.H. Burnham and Co. Its design output continued to be prodigious, including department stores (Marshall Field's), office buildings (People's Gas and the Railway Exchange, at 122 and 224 S. Michigan, respectively), and public buildings (e.g., park fieldhouses, railroad stations, city halls) all across the country.

However, Burnham gained an even greater reputation for his influence as a city planner. He supervised the laying out and construction of the 1893 World's Columbian Exposition and, in 1909, Burnham and his assistant Edward H. Bennett (Michigan Avenue Bridge) prepared The Plan for Chicago, which is considered the nation's first example of a comprehensive planning document. Burnham also worked on other city plans, including ones for Cleveland, San Francisco, Washington, D.C., and Manila in the Phillipines.
Numerous important architects worked for Burnham's firm, including Peirce Anderson, Charles Atwood (Museum of Science and Industry), Ernest Graham, and Frederick Dinkelberg (35 E. Wacker Building, Heyworth Building). Following his death, the firm continued as Graham, Anderson, Probst and White; its commissions include the Civic Opera Building, Field Building, Field Museum, Merchandise Mart, Union Station, and Wrigley Building. Burnham Park, which is located along Lake Michigan south of the Loop, is named in honor of the famed architect-planner.