Pond & Pond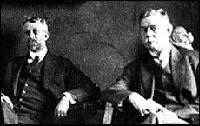 A civil engineering graduate of the University of Michigan, Irving Kane Pond (1857- 1939) gained his first architectural experience in the Chicago offices of William Le Baron Jenney and Solon S. Beman. At the latter's firm, he worked on the initial design of the new company town of Pullman, gaining invaluable experience with brick detailing and craftsmanship.
In 1885, he formed an architectural partnership with his brother Allen B. Pond (1858 - 1929). Many of the firm's buildings were related to social services, an outlook perhaps inspired by their father's role as warden of the State Prison at Jackson, Michigan. They designed several social settlement houses (Jane Addams' Hull-House and Northwestern), as well as numerous educational buildings, both in Chicago (American School for Home Correspondence and the John Marshall Law School) and out of state (student unions at Purdue University and the University of Michigan).
The firm's innovative architecture is notable for its exceptionally well-detailed craftsmanship, as well as its influence on turn-of-the-century architectural modernism. Pond & Pond's buildings also rank among the city's best examples of Arts & Crafts-style architecture.